Indoor Soccer
The YMCA is excited to announce our 8th annual Indoor Winter Soccer Leagues!
We have extended registration to December 24th – Register online at http:danvilleymca.demosphere-secure.com/_registration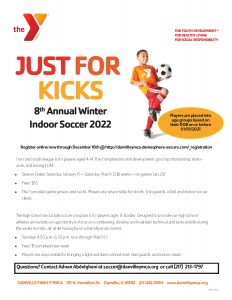 Our coed youth league is for players aged 4-14. The Y emphasizes skill development, good sportsmanship, teamwork, and having FUN!
Season Dates: Saturday, January 15—Saturday, March 12 (8 weeks—no games Jan 29)
Fees: $65
The Y provides game jerseys and socks. Players are responsible for shorts, shin guards, a ball, and indoor soccer cleats.
The high school and adults soccer program is for players ages 15 & older. Designed to provide our high school athletes and adults an opportunity to focus on conditioning, develop and maintain technical and tactical skills during the winter months, all  while having fun in a friendly environment.
Sundays 4:00 p.m.-6:30 p.m. now through March 13
Fees: $5 per player per week
Players are responsible for bringing a light and dark colored shirt, shin guards, and indoor cleats