Childcare
NURSERY/KIDS ZONE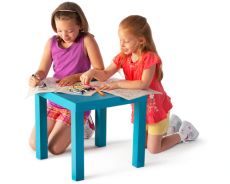 Child Watch is provided free to members with family membership while utilizing the facility. Children without membership cost $5 per child per visit.
Nursery: For infants age 6 months up to Kindergarten
Monday-Friday 7:45am-10:45am
Monday-Thursday 5:00pm-8:00pm
Kids Zone: For youth age Kindergarten to 12 years old
Monday-Thursday 5:00pm-8:00pm
*Summer Hours Mon-Fri 7:45am -10:45am
(Summer hours are effective mid June until mid August—Children can be signed into the summer camp program for up to 2 hours)
Fees: Free to members
Days Off
The YMCA provides a days off/child care program on all school holidays during the school year except Memorial Day, 4th of July, Labor Day, Thanksgiving and the day after, Christmas Eve, Christmas Day, New Year's Eve, and New Year's Day.
7:30am-5:30pm
K-5th grade – All School
Swimming everyday
Stop by the Welcome Center to Register!
Please bring: Sack Lunch, Swimsuit, Towel and a Bag
Fees: $22 per day (Financial Assistance Available)
Y-KIDS AFTERSCHOOL PROGRAM
The Y-Kids Afterschool Program engages kids in physically active learning and imaginative activities that encourage exploration of who they are and what they can achieve. Students get assistance with their homework from trained Y-staff, are served a nutritious meal, participate in the CATCH curriculum, and form long lasting friendships that enhance their development and growth, and self-confidence.
Y-Kids Afterschool until 5:30pm
Y-Kids Sites: Edison, Northeast, Liberty, and Mark Denman Elementary Schools.
Registration for Y-Kids is available at the YMCA's Welcome Center.
Summer Camp
Register for Summer Camp 2019 today! Stop in and register at our Welcome Center! Camp will run June 6-August 9!
1. Hello Summer (June 6-7)-Were glad you're here! Campers will be welcomed to summer by a series of crafts and games.
2. Adventure week (June 10-14) – Welcome to the great outdoors! Campers will explore the nature around them. They will be going on a
nature hunt and exploring local parks.
3. Sports week (June 17-21) – Got game? Campers will be learning new sports each day. At the end of the week they will participate in
a sports tournament!
4. Exploring arts (June 24-28) – Campers will learn about different forms of art. Including painting, drawing, and shading.
5. Game week (July 1-5) – Show us what you got! Campers will use their creativity and come up with games for their fellow campers.
6. Science Camp (July 8-12) – While learning the physics and engineering behind flying, each camper will be challenged with S.T.E.M-
based activities as they learn how flying machines, animals, and insects soar. They will participate in activities and experiments
such as Flying Junk, the challenge of making a sturdy and safe parachute to float an egg onto a target. They will work with Civil
Air Patrol to build and launch rockets. Analyzing the flight of an airplane and kite will occur as they construct and redesign
them to make successful flying machines. After learning the life cycle of a butterfly, campers will craft their own origami
butterflies. Campers will be seeing demonstrations and hearing conversations from balloonists, pilots and naturalists. This year's
goal is to spark the kid's interest in the science of flying and of course, have a blast!
7. Cooking Camp (July 15-19)- Let's eat! Campers will learn how to cook healthy snacks while teaching them that cooking is fun!
8. World explorer (July 22-26)- All aboard! Campers will learn about different cultures around the world.
9. Game week (July 29-Aug. 2) – Show us what you got! Campers will use their creativity and come up with games for their fellow
campers.
10. Goodbye Summer (Aug. 5-9) – Farwell to you my friend! Campers will wrap up summer with a series of games activities. Including an
end of summer party!