Education & Leadership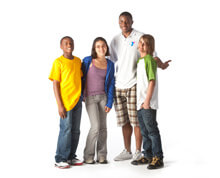 At the Y, we work every day to help them set and achieve their personal and educational goals. As a result, thousands of children and teens throughout the community gain confidence as they recognize the Y as a place where they belong and can feel comfortable exploring new interests and passions.
Additionally, through our leadership and academic enrichment programs such as Teen Leaders, Y Achievers and Young Men Aware, the Y makes sure that every child has an opportunity to envision and pursue a positive future, and to take an active role in strengthening his or her community.