Aquatic Rehab
We are excited to offer a new water program, Aquatic Rehab. Participants will receive one-on-one instruction with an ATRI certified instructor. Persons with orthopedic injuries, pain, balance issues, and who desire to improve core strength would benefit. There is no requirement to be able to swim. Please fill out the form HERE or at the front desk and the instructor will contact you to set up a time and day that works best for both of you. Please note that the Y pool has a constant temperature of 82-83 degrees F.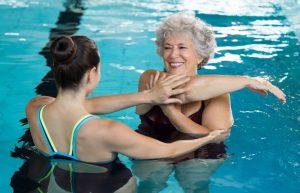 Members: $50 per hour
Non-members: $60 per hour
Instructor: Nancy Davidson
Nancy is certified by the Aquatic Therapy & Rehab Institute, Inc. (ATRI). She has specialty certificates in orthopedics, geriatrics, Aquastretch, and CPR/AED. Her areas of specialty include aquatic rehab, orthopedic issues, pain control, balance, and core strengthening. Nancy has a degree in Physical Therapy from the University of Illinois and has been a physical therapist since 1988 and worked in aquatic rehab since 2002. She is also a Top 10 nationally ranked Master's Swimmer and has placed in the 10 mile World Open Water Championship. Nancy's training style and philosophy regarding water is: You don't even have to know how to swim to benefit from the water! Water exercise is gentle, with less pain than land exercise due to effects of buoyancy and hydrostatic pressure. At the end of our time together you will be independent with your own personalized aquatic exercise program.