Group Exercise
Your membership includes all of our group exercise classes for free! Whether you are an early bird, stay at home parent, or a 9-5er (and all the work schedules in between), the Y has in person instructor classes available to meet you where you are and move you to where you want to be. Check out our Schedules page for all the classes offered throughout the week and their descriptions, both in group exercise as well as our virtual Les Mills studio.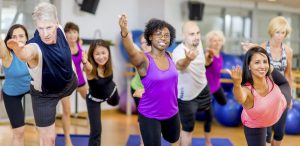 Les Mills is at the Y!
BODYPUMP™ is THE ORIGINAL BARBELL CLASS™, the ideal workout for anyone looking to get lean, toned and fit – fast.
Using light to moderate weights with lots of repetition, BODYPUMP gives you a total body workout. It will burn up to 400 calories. Instructors will coach you through the scientifically-backed moves and techniques pumping out encouragement, motivation and great music – helping you achieve much more than on your own! You'll leave the class feeling challenged and motivated, ready to come back for more.
Class Times: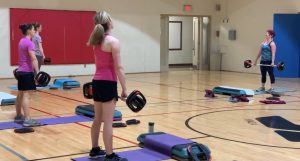 MWF 8:45-9:45 am
MW 5:10-5:55 pm
*Child Watch is open during these classes.