Teens In Training
This program is temporarily on hold due to loss of staff. Check back soon.
The YMCA Teens in Training Program (TNT) allows
members ages 12-14 to get started in fitness and
utilize the Wellness Center. Our professional staff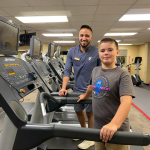 will cover cardio machines, a total body
resistance circuit, and flexibility training over
the course of three appointments. Staff will pay
particular attention to proper technique and form
and instill basic principles of health and fitness.
Set up by appointment only. Three sessions. Please fill out a Teens in Training request form HERE or at the Front Desk.